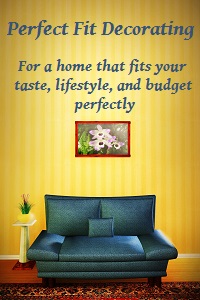 Do you feel relaxed and comfortable in your home?
Does it express your personality?
Is it functional? Does it work for your lifestyle?
Your home should be a retreat. A place you go to recharge when you feel overwhelmed. Its the place that supports and nurtures you and your family.
It should be cozy and comfortable. The place you love to come home to!
So many people flip through magazines looking at the staged pictures of rooms, dreaming about having their home look just like that. They never stop to think how practical the design is for their family and lifestyle.
Museum looking rooms that put everyone on edge don't make a lot of sense in a family home.
A living room that never gets walked in unless it's a holiday is truly a waste of valuable living space.
And how about that formal dining room that sits and collects dust? Is that serving you and your family?
That doesn't mean that you can't have nice things. It just means that you think about the whole picture and how the rooms serve you.
I had a formal dining room for years. We ate at that table most every night. We had a big bin full of coloring and art supplies in the corner. During the day the table was used for coloring, games, and homework. I kept a vinyl tablecloth on the table to protect the top. If we were having a dinner party, I simply switched to nicer tablecloths.
There are simple solutions for making every room in your house not only look good, but work good as well.
As a busy single working mom, I needed a home that's easy to keep up with kids, dogs, and cats. My home needed to be comfortable, inviting, and easy to keep clean.
I couldn't be worried about every bit of sand, dirt, and snow that was going to be tracked in. The house had to be able to withstand real life, and still look good.
And I needed to be able to do the work myself.
Sound like a tall order?
Perfect Fit Decorating – will help you make your home a perfect fit, no matter how limited your budget is. You'll discover -
How to design a floor plan that works for you

How to pick the perfect color scheme for your individual taste

How to decorate in a way that makes sense for your individual lifestyle

How to pick the right carpet for your situation

Things to consider when buying tables

Tips for sprucing up what you already have if you can't afford to buy new right now

Storage solutions

Make it easy for your kids to keep their room clean

And much, much more!
Your home should be a retreat. A place you go to recharge when you feel overwhelmed. Its the place that supports and nurtures you and your family. Make your home a perfect fit.
Get your copy today – Just $9.97
You will also receive Drywall Basics – How to make your walls look great -
I'm willing to bet that your walls are not perfectly smooth. For a really beautiful paint job, you'll want the smoothest walls possible. You might have nail holes, nail pops, cracks, painted over bad spackle jobs, maybe even holes or water damage. I've included Drywall Basics to help you get a great foundation for your decorating.