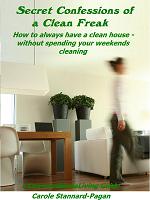 Do you feel peace when you walk into your home and close the door on the world?
Your home is your castle. Your refuge. Your place away from the rest of the world. When you walk in and close that door, you should immediately feel a sense of relief. It should be tranquil.
That doesn't mean that there is no life going on inside that home. It just means that it is a place where you (and your family) can enjoying being- whether you need to rest, renew, do homework, entertain, do laundry or whatever else you need or want to do.
Many people come home to a house full of clutter, chaos, and tension. They feel a constant state of overwhelm. Dirty dishes. Piles of laundry. Dust. No place to put anything down. Everyone is yelling. There is a never ending sense of discord and stress.
When everyone leaves the next morning, they are still as agitated as when they came home. The nervous system doesn't get a break. It affects you all day. Its no wonder so many people have high blood pressure. There is never a break from stress.
Your home environment needs to be as peaceful as possible. The more chaotic and cluttered your surroundings, the more stress you will feel, right? It may sound silly to you, but you cannot find tranquility when you are surrounded by a mess. It's just a constant reminder of things not done. No matter what you do to try to tune out – its always right there.
Creating a comfortable and pleasant living space is the one BIG area where you have control. When you take control of your living space – you get immediate results that you can actually see and enjoy.
It feels so much better to sit down in a clean room, (one that doesn't look like a crime scene.) You can drink your coffee, read, turn on the TV, and be with family and friends without stress. Bliss!
Your home is your sacred sanctuary. You need this to be the one place on earth where you find peace. It is your needed escape from the rest of the world. It is your source of renewal.
Good health, renewed energy, feeling good about life…control of your home environment has an incredibly positive and productive affect on you and your family.
Home is the place where you come to escape the stress of the world. It is where you rest, rejuvenate, and recharge.
It is where you relax and get your head back on straight.
It is where you connect with your family.
It is where you create and enjoy healthy meals that further recharge your health and energy. Not likely if you can't find your counter-tops or a clean pan, right?
It has even been shown that people who live in a cleaner environment have a better sense of right and wrong and more respect for their environment.
Creating Your Zen Home
It does not matter where your home is, how big it is, or whether you own it or rent it. The only thing that matters is how your home makes you feel.
I'm going to help create and maintain, as simply and as easily as possible, an environment that is going to provide you a zen haven.
That's your reward for achieving your goal this week. The bliss that comes from being able to relax and the great feeling you get from a well- deserved sense of accomplishment. Not to mention the added benefits of a calmer, happier family.
You want to get to the point where you're not constantly bombarded by things that need to be done. Clutter is a constant reminder of the things that we have let get out of control. It eats away at us. This week YOU are going to learn the positive joy of control.
I know that at this point it's hard to believe that you can feel any sort of zen tranquility in your home. I remember when I was so stressed out as a working single mom.
You get home after 6. Then there's dinner, and homework, and we always had neighborhood kids over, and bath time. We had to get up at the crack of dawn to get my daughter off to before school care, and me to work on time.
If you left all the housework for the weekend, then you couldn't have any fun. Between housework and errands, your whole weekend was gone. That sure wasn't working either.
Being in corporate management, I took a step back and looked at the situation through business eyes.
What was the objective? 
To be able to easily keep the house clean and not have to do housework on weekends.
How could I achieve that?
I looked at each task that needed to be done and figured out how long it takes.
Then I created a schedule – one extra task per night.
The funny thing is, when you stick to the schedule you never get the build up that takes hours to clean. Everything goes really fast. It's incredible.
You won't believe how easy housecleaning can be.
No more back-breaking 4 hour stretches of housecleaning! That is a thing of the past. Who has the time or energy for that? 
Secret Confessions of a Clean Freak is The Simple Housecleaning Guidebook that will show you how to -
How to clean every room in your home, top to bottom, and keep it clean.

​

You'll learn to look at your home through the eyes of a pro. How do they plan their work.

You'll learn step by step how to get each room clean the fastest way possible.

How to keep the kitchen clean in minutes a day.

How to clean the bathroom in 10 minutes – even less once you get good at it.

How to keep your home clean, and not spend your precious weekends doing it.

Get your clutter organized.

Solutions to common house cleaning problems

The magic sauce – how to put it all together in an easy to use schedule

You'll have checklists of cleaning acitivites for each day to keep you on track.

 
 Heck, after a while, you might find that certain things only need to be done a couple times a month, and they still look pretty clean.
Quit doing things the hard way!
There is the hard way to do things, (the way most people do them) – and then there is the easy way. When you know how to do it the easy way – you'll wonder why no one ever told you. It's not their fault. Honestly, most people don't know these secrets. Not even your Mom!
Secret Confessions of a Clean Freak takes the same techniques the pros use, and breaks them down into small manageable tasks that you can do in no time. Your home will be pro-clean, without the pro-price!
Once you "get it" and you've mastered the system, you will be amaazed at how much easier life feels.

My whole goal when I started creating this system was to have a clean house where I would not be embarrassed if someone stopped over, and to have the weekends free to have fun with my daughter. They grow up so fast…
What's your reason?
Quit doing things the hard way.  
Get your copy today. Only $9.97 to get a cleaner home in half the time -
You're going to love coming home!
You get the downloadable ebook that will walk you step-by-step through the entire process from start to finish. You get all the insiders-only instruction on how to not only get your house clean fast but how to keep it clean without back-breaking effort. You get the exact blueprint you need to succeed! E-book version is instantly downloadable. You can get started right away.
But we don't stop there. Once you home is clean, you'll want to take it up a notch!
Bonus #1: The Essential Guide to Organizing Your Home
When you purchase "Secret Confessions of a Clean Freak" right now, you also get instant access to The Essential Guide to Organizing Your Home – written by a professional organizer –  its full of tips to help you get your home organized.
Bonus#2: How To Clean Your Carpets Like a Pro
New carpet is expensive. It makes sense to protect your investment. This report was written by a professional carpet cleaner and it will help you keep your carpets looking great longer.
Your order is securely taken by PayPal.
Simply Click on the Button and follow the instructions to download your package
No Waiting – Get started right away!
Important! You will be redirected to the download page after paying. Do not close out until you have followed all of the links to your download -
Only $9.97 – Yes, the whole package is only $9.97 right now!
(please note – these are e-books – shipping is not an option)
Now, what will you do with all that free time?
Enjoy!
Carole
PS – I am so confident that Secret Confessions of a Clean Freak contains the fastest, easiest way to get your home really clean and keep it that way…
or, you can close this window and do nothing
100% Money-Back Guarantee! – Full 60 Days Unconditional Refund Policy
What others are saying 
Wow Carol, I do appreciate you replying to my email, I honestly wasnt expecting anything back, you normally cant rely on it these days can you and when you look at how simple you made it, well thanks, I can cope with that, just having it printed out in front of me like this really does inspire me to just get on with it and stop thinking about it. So at the bbq on Saturday I will have a drink to you!! Many thanks for your help.
Sue
I just had to let you know though I have only been using your cleaning scheme for a week, but already my house is twenty times cleaner than it has been in a long time and it looks set to stay that way. I cannot believe that I can now find it possible to keep the house clean while at the same time juggling a part time job, a three year old and a one year old and being pregnant, without having to spend any more time on jobs around the house than I did before. I had never thought of using a squegee to clean the shower screen. It was really disgusting, we'd not been able to see through it in years, yet within a minute the thing was spotless. I'd also never thought of using a feather duster to dust everything or of dusting twice a week, even though it sounds crazy! But now the house is pretty much dust free and will stay that way! It's great to feel that my boys can have their little friends round to play, whereas before I was to ashamed to have anybody round (unless their house was also dirty!).
Thanks, your book has made me happy.
Anna Wilson
Dear Carole,
I would like to thank you so much for the wonderful book, "Secret Confessions of a Clean Freak" This book is the answer to my prayers. With a family of four youngsters, and my husband and I both working, it's often difficult to keep up with the regular must-dos in order to maintain a clean and tidy house. I have always felt that it all boils down to proper time management, and I must say this book certainly helped me get control of my time.
We have always appreciated a clean and tidy home, although sometimes it would take all day just to get the living room into a presentable state. This book clearly outlines just how to prevent things becoming too much, and it has become easy for me to get into the habit of cleaning things up right away.
Sometimes it's difficult to know exactly where or how to start! "Secret Confessions of a Clean Freak" explains clearly how to begin each cleaning task, and shares insider tips , like dealing with dull wood surfaces. This complete guidebook also recommends products that work best for particular cleaning jobs.
"Secret Confessions of a Clean Freak", is a must-have for every household. It has given me the time to enjoy my clean home.
I really would like to thank you so much for sending me this Ebook Carole, you have a heart of gold!
Please feel free to use the comments in this mail on your website.
Kind regards
Fiona
I wanted to tell you, I usually have this whole cleaning ritual that I go through. I have all these cleaners that I use in each room. I tried it the way that you do it and ba-da-bing! It was done. This is so cool, I am so excited! I've been doing it the same way practically since I was a kid. I can't believe I didn't know how to clean a house. I am so proud of myself!
Carla
Round Lake, IL
I believe it's a very handy book and will be happy to
recommend it to anyone with the same time problem
I have . . . which probably includes almost everyone
I know!  ; )
Linda Offenheiser
http://www.stress-freecopy.com
Where you always find the Write words
Things that used to take you an hour to do, will take only minutes.
You'll have a clean comfortable home that you, your friends, and your family will enjoy spending time in. 

You will love coming home

. And you'll have 

more time

 to spend enjoying your home.
Talk about having your cake and eating it too

PSS – Just one thing- Depending on how bad things have gotten, it may take you a few weeks of a little effort every day to get it under control. That's just common sense, right? But, once you've got the house cleaned up and you're in the groove, it will be a breeze to maintain – so stick with it. 

It will be worth it.
Need Help? You won't be left alone. I'm always just an email away.
As long as you continue to use these breakthrough techniques, your house will stay clean. I guarantee it.
You can spend more time and money doing it the hard way, or….
Only $9.97 – Yes, the whole package is only $9.97 right now!
"But Carole – I've seen others offer monthly memberships. Why don't you?"
Gosh, there's not that much to say. Cleaning house is not that hard when you know the secret techniques used by the pros. I personally can't see why you would need a monthly membership.
There are checklists and schedules in your copy of Secret Confessions of a Clean Freak to keep you on track.
I just can't see a reason why you should have to pay every month. You want to get it done and get out of there, right?  
Think No One Really Notices?
I'm so glad you raised me to be clean. Some of these people's houses are disgusting. Especially their bathrooms. I don't want to be rude, but I want to ask them how they think they can get clean in that room.
Emma Gabor – at age 17
You deserve a break, don't you?